Posts Tagged 'Franchise Development'
Thursday, January 17th, 2019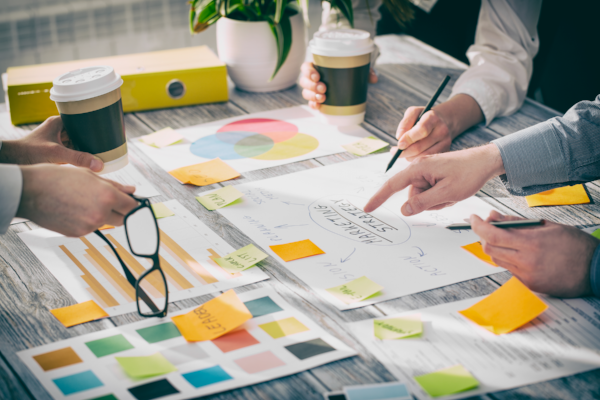 To be a leader is to be a creator. Whether you're a builder of timelines, a maker of company of culture or a designer of operations, leadership requires vision. You have to inspire others to do the work.
This year, I had the pleasure of interviewing so many incredible creative women from all over the globe, from actress and creative entrepreneur Karyn Parsons to music video director Hannah Lux Davis. And with every interview, I heard stories of resilience—lessons in brave creative leadership, resourceful decision-making and bold ambition.
So, as we head into 2019, I'd like to share the five key lessons I gleaned from the 51 pieces I wrote on creative entrepreneurship in 2018. I hope you learn just as much from these five entrepreneurs as I did.
1.) Show up and set the tone.
When you're leading a team or self-employed, it's on you to show up for your staff and for yourself. You have to push through moments of disappointment and doubt. You must show up and do the work. "On a daily basis, as an artist—or generally people who are creative-inclined—we're just self-critical. There are times when everyday feels like a failure. There are times when I go to the studio and I am just sitting there and everything feels wrong. Or I feel like my career is falling apart and I don't know what's going to happen tomorrow. At some level, there's a part of you that has to treat it like a job. You have to go in and you have to sit there and you're going to stare at your work even if you don't make it. You have to work through it. You can't stop. You can't give up. My grand theory is that if you don't give up, you can't fail," artist and painter Hiba Schahbaz said.
2.) Invest in your operations. Invest in your team.
In order to establish a solid company culture, you must understand your business' values and you must have the capacity to articulate these values to others. So, don't skimp on the foundation of your business. Take time on your mission, your goals and your team. "My personal leadership style is to invest in really great, well-matched team members, give them the tools to do their job and then the freedom to be creative with their own approach while offering support when needed," Meg Erskine, CEO and co-founder of Open Arms Studio said.
3.) Stay focused and lean.
When you're running your own business, it can be easy to compare your entrepreneurial journey to others. And when we compare, we oftentimes go after milestones or symbols that have nothing to do with our company's actual success. So, stay focused. "Keep your overhead low and diversify your income streams. There may be pressures to live beyond your means–wait on all that. Until you are making passive income, have steady funds for three years or more, or you win the lottery, keep that overhead low. Any extra income should be saved or invested," DJ and creative entrepreneur Jasmine Solano said.
4.) Create the business you'd like to see in the world.

When you feel like giving up, remember why you started. As an entrepreneur, you have the ability to create something new for yourself and your team everyday. Take advantage of that privilege. "Our gut feelings are actually a really big part of how we operate. We're discerning in the kinds of projects we take on board and which collaborators we decide to work with, but we tend to know when a thing feels right and when it works for us and we try not to overthink it. We move forward and we take action. In terms of starting this company, as well, we all had a desire to rethink the corporate structure we operate within in the film industry. Sure, you can sit in an office from nine to five or nine to ten, but you can also work from home one day. There are many different ways to work, and for us it is really about that, the work. It's about getting the job done, and making sure that everyone who works with us and everyone who works at the company is happy and has a healthy work-life balance," film producer and co-founder of Nowhere Studio, Maria Kongsved, said.
5.) Remember—your future, or your company's future, is not limited by the scope of others' opinions.
You will face rejection. You may not get the client you want, you might fail at a big project, or you may realize you need to change course. That's part of the process. "I'm a badass woman and I am a good artist. I'm not going to let someone who doesn't make art define my art. What artists share with the public is a reflection of our true selves. And everybody doesn't like everybody in real life, and it needs to be looked at that way. Just because you don't get the gig you want, it just might mean that gig is not for you. And every time I forget that, the universe just hits me with someone better than the thing I wanted so badly," singer-songwriter and lead singer of The Suffers said.
This article was written by Jane Claire Hervey from Forbes and was legally licensed through the NewsCred publisher network. Please direct all licensing questions to legal@newscred.com.