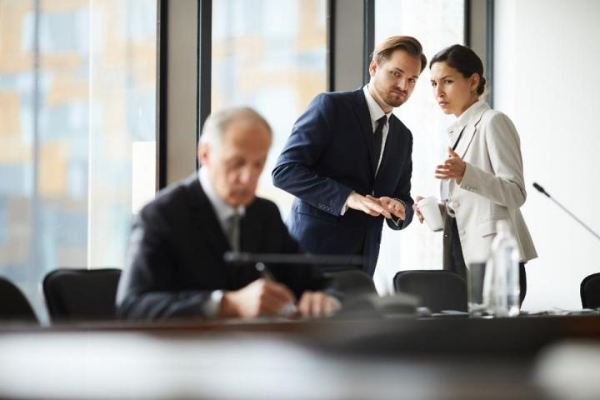 If we're honest, most of us privately wonder if those we lead are being straight with us –especially when it comes to how they feel about our leadership. (Yes, some leaders worry too little about this!). I recently observed a Town Hall meeting where a new leader had just been promoted to run his division. In his introductory remarks, many – including me – were struck by his declaration, "One of the things you'll find is that I'm very self-aware and open to feedback." At the back of the room where I stood, I could see the rolling eyes.
Over my 30 year career working with leaders, I've heard many declare such self-enlightenment. Borrowing Margaret Thatcher's observation, if you have to declare you are self-aware, you're not. It's been nearly two decades since John Kotter's landmark study revealing that effective managers know the impact of their decisions on others. But since then, subsequent research suggests that our level of self-awareness hasn't improved all that much.
In the case of the speaker, I introduced myself after his remarks, and asked him, "So what have you done to become so self-aware and open to feedback?" Proudly, he responded, "I make it a priority to get a 360 feedback review every year." I probed further, "And what kinds of things have you been able to improve in your leadership as a result of all that feedback?" With remarkable sincerity, he said, "Well, for example, last year I received feedback that our staff meetings were too long so I shortened them by 30 minutes." I now fully appreciated all of those rolling eyes.
It turns out, you don't need to collect formal 360 feedback to learn how others are experiencing you . I've observed leaders who genuinely care about how others experience them consistently do the following four things to stay sharply in tune with how their influence is landing on those around them.
Ask for pushback. The basic skill leaders need to keep intentions aligned with impact is the ability to credibly solicit dissent and feedback. Whether in meetings, or one on one, insights about how others experience you are revealed in the degree to which they feel comfortable pushing back when what they experience doesn't sit well. If you don't have people routinely offering dissenting ideas, or raising concerns about actions you are contemplating or have taken, you should worry. No news is not necessarily good news. After meetings where particularly difficult issues or decisions are discussed, one leader I work with asks a few members of her team, "How do you feel that went, and what could I have done differently?" Her team has come to realize she genuinely wants pushback and accepts it graciously. The ability to initiate such conversations is at the heart of receiving honest feedback. Too many 360 feedback processes have become replacements for great conversations instead of instigators of them, because they allow people to hide behind the anonymity of the tool. But effective leaders simply ask for that feedback on a regular basis in more intimate settings where the conversation can enhance the relationship. .
Read cues and faces. The greatest "mirror" reflecting back how others experience you are the faces of those around you. If you learn to read them, they can provide a steady stream of useful feedback about how your words and actions are being metabolized. When people look down or avoid eye-contact with you, when otherwise engaging colleagues suddenly become quiet, or when normally even-keeled colleagues get defensive, pay attention. While people may withhold verbal feedback, their faces and bodies will often tell a different story. Don't ignore these critical cues. Offer your observation graciously. I observed one leader do this masterfully. When moods or countenance took a sudden shift, he would simply ask things like, "Tell me how I should interpret your silence," or "You suddenly seem to not want to look directly at me. I'm concerned something I've said isn't sitting well. Can you help me understand if that's true?" These tactful observations invited others to share what was happening internally, and in turn, helped the leader adjust. Allan and Barbara Pease, in their landmark book, The Definitive Book of Body Language, suggest that because more than 65% of interpersonal communication is non-verbal, spotting the contradictions between someone's words and body language will dramatically increase your ability to accurately perceive. There's a wealth of calibrating feedback all around you reflecting back how your words and actions are being received. If you harness it, you'll not only sharpen the connection between your intent and impact, you'll deepen the trust between you and others as they observe you changing behavior based on what you learn.
Monitor how you narrate the story. Leaders are notoriously bad observers of their own reality. Absent a way to calibrate, we are naturally inclined to interpret how things are going in overly positive ways. Pay attention to your inner narration of what's happening around you. If that voice is working to convince you things are fine, step back and re-assess. Beware too many self-generated messages that sound like, "You know, I think that presentation went really well…so what if they didn't have any questions," or "Don't worry, they understand that you get a little impatient sometimes, but they know it's because you really care," or "I can't believe they think I'm indecisive! You can't rush the creative process!" When the voice in your head is working to self-justify or self-sooth, hear it as an alarm indicating you are likely working with incomplete data. The alternative narrations can be equally destructive. The harsh voice that criticizes, "You idiot – did you really just say that to your boss?" or "Nobody is going to take you seriously" can be equally faulty. If your narrator's voice leans to heavily in one direction, force yourself to consider what interpretations you could be missing to develop a more balanced perspective.
Know and permit others to name triggers. All leaders have buttons that get pushed, and when they do, trigger unproductive behavior. Some leaders react defensively when confronted with mistakes. Others become sarcastic or passive-aggressive when they don't get their way. And some become harshly impatient when things don't move quickly enough. Whatever they are, self-aware leaders know their triggers, and let others name them. One leader I worked with became painfully verbose when he was anxious. During meetings where contentious issues were being discussed, he would launch into lengthy diatribes in an unconscious effort to calm his discomfort with conflict. One of the ways he worked to improve was acknowledging that he was aware he did it (which his team greatly appreciated). He asked them to simply hold up their hands when they felt he'd gone on too long. The first few times people raised their hands, he struggled to shut up. Someone on the team finally said, "If you want us to help you stop rambling, you have to agree to actually stop talking when we raise our hands." He did. He eventually learned brevity, and to emotionally prepare before meetings by writing out concise statements he could employ as needed. Great leaders also apologize when triggered, cleaning up emotional messes. So if you aren't regularly apologizing for moments when your triggers get the best of you, chances are you aren't aware of what they are, or don't see the painful repercussions they leave behind.
Knowing how others experience you is fundamental to influencing effectively. Assuming that you'd "just know" if others were bothered by something you were doing, or that because you're a "good person," others are giving you the benefit of the doubt, are dangerously presumptuous approaches. You don't need a formal 360 process to find out how others experience you. Rest assured, your people are talking about you. You should get in on the conversation. And, pay attention to, and act upon, all of the data you are already getting.
This article was written by Ron Carucci from Forbes and was legally licensed through the NewsCred publisher network. Please direct all licensing questions to legal@newscred.com.